The Impact of Leadership and All Star Image: An Athlete's Perspective
By: Lauren Pennington, Baylor University, USASF Athlete Advisory Council
The USASF has been working diligently to recognize and broaden the role of our member athletes in shaping the future of All Star. A large part of this process is teaching these athletes to become leaders in the sport while involving them in discussions about the image of All Star. A USASF Gold Scholarship winner in 2019, Lauren attended the BOLT Leadership course and is a freshman cheer athlete at Baylor University.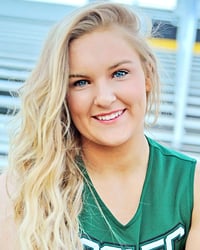 My name is Lauren Pennington and I am a freshman at Baylor University, studying Athletic Training and Leadership. I am also a current member of the Baylor All-Girl Spirit Squad and a member of the USASF Athlete Advisory Council.
When I turned five years old, my birthday present from my grandparents was a year of tumbling classes at my local cheer gym. I remember looking through a glass door at a cheer team practice and admiring their skills. Later, I would even sneak out of tumbling class to watch other teams practice. Eventually, my mom took me to a cheer competition to watch teams and see if that's truly what I wanted to do. I was overjoyed!
Over the past twelve years, I never stopped cheering. Through losses, gyms moving, gyms closing and having to drive over an hour and a half to practice, I never stopped. I have cheered at small gyms for the majority of my cheer career and the last few years were spent at a large gym. I've won NCA, Summit, Cheersport and many other competitions. I have taken millions of cute "insta-worthy" pictures. I have had some of the most beautiful uniforms throughout my All Star career, but no win, picture or uniform will ever be as important as the lessons and real-life skills I have learned being an All Star cheerleader.
I hadn't thought of myself as a leader on any of my teams until after going to a BOLT (Bettering Our Leaders of Tomorrow) Conference held by the USASF. I only went because I was on my gym's leadership team and I didn't have practice the day of the conference. Little did I know, that conference would change my life forever. I realized that literally ANYONE could be a leader. BOLT started a fire in my heart for leadership. I was then chosen to be on the USASF Athlete Advisory Council where I have been able to meet with other athletes with the same passion for leadership, and I get to have a voice in the All Star world. I finally got to meet with the people who help make rules for cheerleaders and dancers. I realized that the USASF is made of real people, just like me, instead of just a bunch of people who just made the rules for athletes to follow. The USASF is made of people who have such a deep passion for the sport that they have dedicated their lives' to ensure athletes' safety on and off the mat.
This summer, the Athlete Advisory Council, as well as the Regional and National Boards, have discussed the importance of image in All Star. I asked several people around Baylor, including former cheerleaders and non-cheerleaders, about what they think of the image of cheerleading. I was honestly not surprised that the old-school stereotypes of people thinking that cheerleading is "easy" and "all about the looks." I was quite surprised, however, that former cheerleaders were the only responders that agreed that cheer is a sport. The All Star world is still small enough that the majority of people only answered based on their opinions of high school cheer. Most people view cheerleaders as skinny girls who care about having followers on Instagram. Another point a lot of people made after looking at different social media posts by current cheerleaders was that they had a hard time imagining the girls in a sport, due to the "vulgar poses and tiny uniforms that show off a lot of the girls' bodies" whereas they expected to see more athletic-looking athletes.
These results aren't shocking to me, but they do confirm the fact that cheerleaders still have a negative stereotype. As much as All Star differs from school cheer, people who aren't in the All Star world still see competitive cheerleading as such. The USASF Athlete Advisory Council, Regional Board and National Board are working hard on changing the global image of All Star. Over the last five years, rules have been implemented to decrease the provocative nature of the crop tops and mini skirts. These rules have helped a lot, but I know we can do more to protect our athletes.
I believe that the USASF is continuing to help the image of cheerleaders in a positive way. Makeup has been brought to a minimum, hair is tamed to a small tease or even braids. The USASF understands that athletes enjoy getting ready with their team, and that the athletes love looking good. Who doesn't enjoy looking their best? The goals of the new rules are not to frustrate athletes, but to preserve the athleticism of the sport, while still having fun and looking good.
I know that a lot of parents and athletes share our same concern. If you would like to join in the conversation, be sure to join us by downloading the Band App and searching for All Star Cheer & Dance Parent Connect!