If only there were a single road map that worked for every All Star athlete. A simple manual could help figure out "next steps" and "what's best" in a "one-size-fits-all" kind of way. Of course that's not reality — and we don't want it to be! Each athlete should have a unique experience in All Star with the help of their support system at home.
To help parents or guardians play an integral part of their athlete's experience in All Star we asked All Star Owner and mother of two very successful All Star athletes, Sheila Trost, her advice for being supportive as well as engaged in your All Star athlete's All Star journey.
Lessons learned on the dance floor apply to all facets of life
Q: [USASF] As a parent of very successful All Star athletes, what do you feel is the most important role of the parent?
A: [Sheila Trost] As a parent of two very successful All-Star athletes, I have learned to let them succeed and fail without fighting their battles for them. I have always taught my daughters to be strong, independent and determined young women who put others before themselves. I think it is our job to be supportive while encouraging them to be good teammates. I am in a unique role as their coach and their parent so that creates its own set of challenges. Most athletes get to "turn off practice" when they get home, but when your mom is the coach it's part of your life all the time. I have learned to truly enjoy every moment and experience all that we have been able to share together. I have learned to appreciate our differences and recognize that they need to vent as well.
"I think that it is a parent's job to enjoy the journey, support their athletes but never live your own dreams through your child. Be their #1 fan."
Let them know you are proud of them. Teach them to use the lessons they learn on the dance floor in all facets of their life. Teach them that hard work and perseverance will pay off. Help them understand and appreciate diversity. It is ok to want to win but it is also ok to lose if you gave it your all! Losing with class is important! There is always something to learn!
Being Coachable and Accountable
Q: [USASF] As a program owner, what advice would you give to parents to help them navigate being an advocate for their child while also allowing them to be coached on the good and bad days?
A: [Sheila] I think the best advice I could give is to empower your child to speak for themselves and talk to their coaches independently. Never critique a coach's decision or other athletes in front of your child. I think that so often parents try to protect their children from failures but actually those are some of the experiences they learn from the most. Teach your child how to be coachable and hold them accountable. Respect, discipline and grit must be taught. I am an advocate for tough love. I am also a strong believer in rewarding and recognizing a job well done. Always encourage your athlete to talk about it and give it 24 hours before they react!
Communication is Key
Q: [USASF] How do parents learn about all of the opportunities offered by the USASF for All Star athletes?
A: [Sheila] I do a lot of training for our parents through our monthly parent meetings, parent liaisons and weekly e-blasts. There is a lot of information out there on the website so I would encourage parents to explore!
Encourage Solutions and to Think Outside the Box
Q: [USASF] Oftentimes, athletes express their frustration to their parents when things don't go well in the gym or studio. What advice would you give for parents when this happens?
A: [Sheila] When your athlete is frustrated the best thing you can do is encourage them to think of a solution to their problem without you, the parent, calling the coach. The worst thing you can do is feel sorry for your athlete. You want them to learn from each situation and become creative thinkers. Every day is not going to be the best day and that's ok! Everything is not always going to be easy. Encourage them to work harder; think outside the box. I was never a parent who passed blame onto others. Listen and acknowledge their feelings but try not to feel sorry for them. Be sure to tell your program owner when you appreciate something as well. Don't just call when something goes wrong. Be thankful, appreciative and supportive! Encourage your athletes to do the same. Gratitude goes a long way!
The most important thing is to be present in your athlete's All Star experience. Ask them about opportunities offered through their programs. Explore all USASF has to offer and continue to support their love of the sport!
---
The support of parents is paramount to the positive athlete experience in All Star.

Learn more about the resources USASF provides to parents to support their All Star Athlete.
More About the Author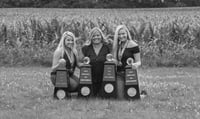 Sheila Trost is the founder, artistic director, and choreographer for the Nationally and World ranked Energizers Dance Team. She is an accomplished dance instructor, judge, coach and award winning choreographer who has instructed all ages in pom, jazz, hip hop, kick and studio dance for the past 25 years.
---
Are you interested in contributing to the Parent Connect Newsletter? Contact Sarah Miller Bate at smbate@usasf.net for more information on sharing YOUR story as an All Star Parent.