Dr. Jamison Green, PhD., of Transgender Strategies Consulting, gives valuable insight about representation in All Star and offers his thoughts about inclusion and its important role in the wellbeing of youth athletes.
In his interview he also shares why parents and athletes should get more involved in the organizations they are a part of and discusses the importance of finding an organization that sets out to create policies to support its mission.
How to Allow Young People to Express Themselves
Q: [USASF] As we explore the concept of inclusion within our sport, can you share with our readers your perspective of All Star and why creating a culture of inclusion is so important to the overall wellbeing of the athletes we serve?
A: [Dr. Green] Any team sport provides an opportunity for learning and emotional growth, as well as skill development. All Star provides a unique venue for collaborative competition with both dance and tumbling elements that appeal to a wide variety of young people: boys, girls and nonbinary-identified people as well. There's no better way to quickly learn how much you are like other people and others are like you than to work together for a common purpose, whether that's to develop a routine or to win a competition. Plus, All Star serves such a wide range of skill levels and ages that there's sure to be a place for anyone who wants to work hard and have fun.
All Star leadership has been aware that diversity includes gender identity and expression, and that means recognizing transgender and nonbinary-identified athletes, who are equally deserving of a chance to participate in sport. There is so much misinformation about transgender and nonbinary children and youth (let alone transgender adults!), and families often can feel some embarrassment having to tell their coaches and teammates that someone they've known will be changing their name and gender marker and wearing a different uniform. But gym owners and coaches in the All Star realm have done a wonderful job of taking away the fear and mystery, allowing young people to express themselves and continue to strive to achieve their full potential as athletes.
There's no better way to quickly learn how much you are like other people and others are like you than to work together for a common purpose, whether that's to develop a routine or to win a competition.
Most athletes in All Star programs who have expressed a new gender identity say their teammates and coaches have been "Great!" The other kids usually know when one of their teammates is more relaxed, more energetic and more themselves as they go through their workouts. And parents often observe that their child is happier, more committed to their skill development and involved as a team player when they are able to fully express themselves.
Creating this culture of inclusion through All Star is an ideal way to prepare young athletes to fully participate in the diverse world we all live in. It helps develop emotional and intellectual skills they will need as their worlds expand through their education and employment, as well as in further athletic pursuits.
Having a Voice to Shape Policies and Programs
Q: [USASF] As a youth sport organization we are committed to being inclusive to all. Our core values celebrate the unique attributes, characteristics and perspectives of all who choose to participate in All Star. We recognize that our goal of inclusion can only be attained when those who choose to participate also have an opportunity to serve within the structure of the organization. What are some suggestions you have for parents and athletes to consider becoming more involved in the USASF?
A: [Dr. Green] Organizational structures offer tremendous opportunities to learn both cooperation and leadership skills. Being part of an organization gives individuals a voice in shaping policies and programs, acquaints individuals with the mechanics and logistics of getting things done, and gives individuals an opportunity to represent voices that might not be at the table. Having the parents of trans kids involved at the organizational level allows them to demonstrate that their concerns are the same as those of other parents. It also gives other parents an opportunity to learn more about trans or nonbinary kids in a context that is collegial rather than oppositional or judgmental. Similarly, as when children who come from diverse races and cultural backgrounds are participating in activities together, having parents as part of the decision-making structure that supports them provides a stronger framework of unity in which the youth can thrive.
The Closer One is to the Activity, the Deeper they will Experience the Positive Values
Q: [USASF] This article is provided for the parents of All Star Athletes in hopes that they learn more about the sport they have chosen for their child. As an expert, you have been an integral part of creating policies that support our mission of Inclusion. Can you share with parents why participating in an organization that creates policies to support their mission is important?
A: [Dr. Green] All Star promotes the values of healthy competition, opportunity, individual growth and skill development, the principles of team-building, and the goal of creating spaces where children and young people are all encouraged to participate at the level of their skill. This is really a tall order, especially on a national scale!
Policies that are written to be inclusive and implemented fairly and equitably are the foundation upon which an organization can achieve its objectives. These policies help to ensure that everyone understands and agrees with the values, principles and goals of the organization, and keeps everyone moving in the same direction. Policies are living instruments that an organization can adapt and modify as situations change, but in general they should always speak to the core of the organization's purpose, and as such, they should be clear and strong. Whenever there is a question about how a questionable matter or a conflict should be handled, organizations should be able to look to their policies for guidance. An organization that sticks to its foundational policies, even when modifications are necessary, will find that its mission is far more achievable than that of an organization that has no internal guideposts.
The policies are more important than the personalities that may take charge for a time. All Star hopes every athlete will be a star, and its inclusive policies demonstrate that aspiration, and the young champion athletes that are training and competing every week are the testament to the organization's efforts. Being a part of that organization says something about everyone who is in it, and the closer one is to the activities, whether its being an athlete and showing up for training and competitions, or being a parent and attending meetings and helping to create the events that your young athlete participates in, the more deeply you will experience the positive values the organization and its policies brings to your family's life.
The most important thing is to be present in your athlete's All Star experience. Ask them about opportunities offered through their programs. Explore all USASF has to offer and continue to support their love of the sport!
---
The support of parents is paramount to the positive athlete experience in All Star.

Learn more about the resources USASF provides to parents to support their All Star Athlete.
More About the Author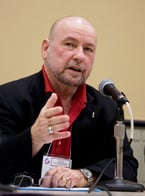 Jamison Green, PhD.
Transgender Strategies Consulting, LLC
Dr. Green has been a valuable consultant for the USASF on topics related to gender inclusivity and policy development. He is an experienced manager, educator and author, specializing in health and civil rights. As the owner of Transgender Strategies Consulting LLC, he helps businesses, governments, educators, professionals and social service agencies develop culturally viable policies and practices to ensure transgender and non-binary-identified people are able to fully and safely participate in all aspects of society and that everyone is able to maximize their potential within their organizations.
His expertise has helped guide USASF in our continuing drive to ensure we are inclusive for all who seek to participate and that everyone has the opportunity to have a positive experience within All Star.
---
Are you interested in contributing to the Parent Connect Newsletter? Contact Sarah Miller Bate at smbate@usasf.net for more information on sharing YOUR story as an All Star Parent.